Nepal Trek March 2017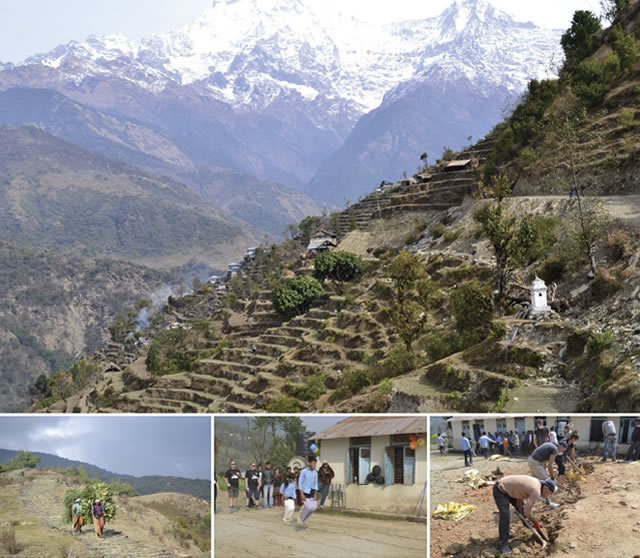 From Thursday 2nd - Sunday 12th March 2017, IODR is providing you with a unique opportunity to be a part of its inaugural charitable experience in aid of our ongoing intervention projects in Nepal. If you would like to join us on this exciting adventure – read on to find out more about the trek, learn how the money raised will support IODR's initiatives, and register your interest using our online form.
Indian Ocean Disaster Relief (IODR) was founded by Grange Hotels' Managing Director, Tony Matharu, following the 2004 Boxing Day Tsunami; initially to protect and sustain lives directly impacted by this disaster; to rehabilitate the community, especially vulnerable children whose lives had been irretrievably changed; to support them through education in its broadest sense; and to build local capacity to create sustainable futures. Since that time, whenever there is disaster, IODR intervenes; building long-term projects including schools, housing, education, sports, welfare and community facilities.
More recently, IODR has intervened in Nepal; supporting two separate education projects, with schools, sports and play areas, and is currently working on a project to build a vocational centre to support the victims of human trafficking and acid attacks; allowing them to build confidence and vocational skills to sit exams and gain qualifications.
Intervention here will create a sustainable future and increased opportunities for children through education, and empower them to progress and fulfill their potential.
IODR's aim today is to measurably improve the well-being of children following natural and other disasters.



The trip will involve four to five days of trekking to Poon Hill (3120m), allowing you to take in the breathtaking Nepalese scenery. During the trek, you will have the opportunity to meet local communities and learn about Nepal's rich culture, whilst at the same time exploring some of the most beautiful landscapes in the world. The journey will be challenging, and you will need to rely on teamwork and mentoring to get you through, but this is what makes the achievement all the more rewarding. Trekking in Nepal is a truly unique experience, and one you will never forget.
Your guide for the trek is experienced mountaineer and long-term supporter of IODR, Bob Bhania, who in May 2016 became the first British man to reach the Summit of Everest since before the devastating earthquake hit Nepal. Bob and his dedicated team look forward to sharing their experiences with you as you journey through the incredible Annapurna mountain range.



The trek will be followed by two to three days of volunteering at one of IODR's projects, where you will see first-hand how the money you raise can help vulnerable children in post-earthquake Nepal. The volunteer work you do will largely depend on the needs of the project you visit, and will include a mix of building work and teaching, culminating in the organising and running of a sports day for the students and local community.


Your trip cost: approx. £1,200

This price includes your flights, accommodation, internal transfers in Nepal, trekking permits, guides, Sherpas and porters, and food throughout the duration of the trip. It does not include transport to and from the airport in the UK, your Nepal visa (approx. $25), travel insurance, trekking equipment, clothing, and other personal expenses.


Each participant must commit to raising a minimum amount of £2,500 which will go directly to IODR's Nepal projects.
Grange Hotels covers all of the administrative costs for IODR, and will be helping you with your fundraising efforts all the way; providing venues to host a variety of pre-arranged events, such as quizzes and karaoke nights, so that all you need to do is sell tables and tickets. Grange Hotels will also help promote any other events you organise yourself via social media and through their marketing platforms. The team will be available to provide their expert advice and are happy to discuss any further fundraising ideas.
Please note: You may wish to fundraise for the full amount of your trip, or cover your own costs yourself - this is entirely up to you.


 Develop your self-confidence and strengthen your social skills by making new friendships 


 Improve your health and well-being by doing good


 Give something back to those less fortunate and create unforgettable memories


 Stretch yourself both personally and professionally to make a lasting impact


 Develop your expertise and experience new cultures
To register your interest, please complete the online form by clicking the button below:

Spaces are limited to a maximum of 30 people
to ensure a most successful experience for everyone