Grange Hotels Cricket Day June 2014, Fundraising for IODR
The Grange Hotels Cricket Day took place on Friday 30th May amid great excitement on what must be outside of Lord's and the Oval, London's third most beautiful cricket ground at Vincent Square. This year's Cricket Day was its biggest yet with twelve teams taking part to win the prestigious IODR Cricket Trophy. There were some well known faces in the world of Cricket taking part and others not so well known. Even Olympic Gold medallist, Daley Thompson sprinted in shortly before lunch to appease the growing crowd.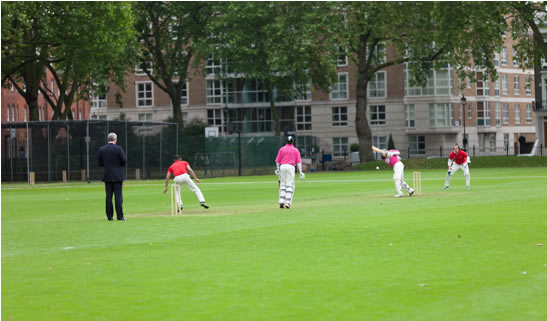 The day started with mixed emotions for some of the teams. J. Reddington caused a storm in a teacup with one of their side's playing days almost shattered. A ball in the eye during practice ensured his place as a sub. In the opposite corner, James Hallam were emphatic with their first victory in four years.
After lunch, Grange One's Vijay managed to run out three of his own team in one over during their game with JLT. He furthermore made his mark in the match when he was hit for 24 off his allocated 6 ball over! There were cries of 'match fixing' from his team mates for the rest of the day.
From the outset it was Aly's Young Guns who were the team to watch and who clearly had their Weetabix for breakfast! After 17 matches two finalists stood out from the crowd. AYG and Grange One; AYG batted first and through some tight bowling were restricted to a slightly below par total of 50 off their 5 overs. Grange 1 started well but 2 caught behinds in the 3rd over cranked up the pressure and they were left 8 short at close of play. Well done to AYG on winning the Cup, Typhoo on winning the Plate and Grange Two on their Wooden Spoon.
Special mention must go to Typhoo for travelling from Liverpool for the day and Franklin, Head Groundsman at Westminster School who manufactured two wickets either side of the main square to allow games to be played simultaneously, Tony Schaffer for his support and umpiring and Phillip Cole for the silent auction.
The event was sponsored by Grange Hotels who's Managing Director, Tony Matharu is Chairman of IODR with 100% of the proceeds raised (£10,500) going to IODR. Drinks flowed all day; with a magnificent lunch and early evening BBQ enjoyed by both players and spectators. A fine way to round off a spectacular day's cricket and entertainment.