Human Football League - 25th March 2015
Human Table Football is our next IODR fundraising event, set to be an afternoon filled with fun, excitement and a hint of competition. Grab your football boots to book your team please email us at info@iodr.co.uk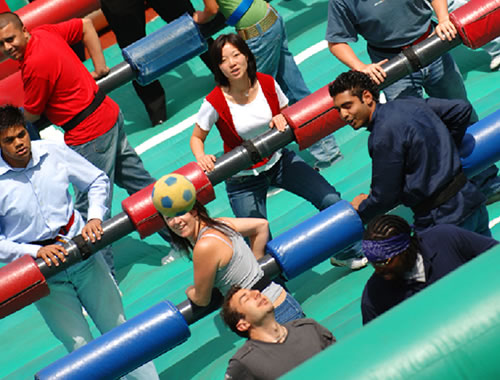 What better way to play table football than on a pitch 40 times bigger than usual? Competitors can really get in amongst the action! The pitch in question is an enormous, enclosed inflatable with its own specifically designed rigid crossbars that support the sliding players, as well as noisy, excitable participants. And for the spectators, keep an eye on the scoreboard from the viewing platform to cheer on your team. This is a non-contact game of teamwork, skill and a little bit of cheating and is the 'beautiful game' on an unforgettable scale.

Date: 25th March 2015
Grange St. Paul's Hotel
10 Godliman Street, London, EC4V 5AJ
Times: 2.30pm for a 3pm kick off
Teams with seven members per team (at least one member to be female)
Price: £250 per team
Dress code: Casual attire suitable for physical activity, no heels.
Deadline for entry: Wednesday 18th March 2015
Food and Beverage: Packages will be sent out prior to the event for pre order. This event is informal.